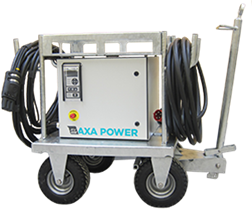 DURABLE DESIGN

The AXA 1400 is a small, light and easy manoeuvrable solid-state GPU that does not take up much space neither in mobile nor in the fixed version.
The solid-state technology means that wear and tear is limited to a minimum since there are no rotating parts.
The result is a very reliable and dependable unit that is built to last for a long time. In case of service or repair, the canopy can be completely removed within minutes, thus leaving full access to all parts.

ITW GSE OPERATOR INTERFACE

The icon based operator interface is common for all ITW GSE products. It is easy and intuitive and guarantees you correct operation.
The daily operator only has to press the combined start/stop button – nothing more. But he can monitor various parameters such as voltage and current at the display screen. For set-up and maintenance purposes, there is a deeper level dedicated for the technician.

DOWNLOADS AND UPDATES


The software-based control system Means that the AXA 1400 GPU can easily be updated in the future simply by transferring new software from a USB stick/flash drive. Power log and Black Box files for analysis can be downloaded the same way.

Available in the following ratings:
400 A – 600 A with peak loads of 1600 and 2400 A
The units are available in mobile as well as in fixed versions.