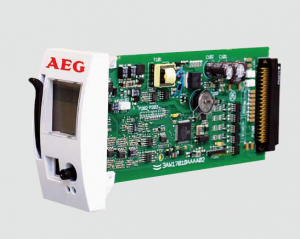 Powerful, flexible, hot pluggable, alarm and control module for monitoring and control of stand-alone power systems for control of all the rectifiers. Local parameters configuration capability (automatic discharge test, capacity meter, presence test, low voltage disconnect etc). Advanced battery management. Dedicated PC software. Optional TCP/IP boards. ECOpx for hybrid solutions.
KEY FEATURES
Integrated backlit display with 5-axis joystick
Digital interface (CAN bus) architecture for increased functionality, flexibility and reliability
Modular design with powerful expansion capabilities
True plug and play
Automatic download of configuration from the system
Pre-loaded configuration file
Remote monitoring with optional modem or LAN (TCP/IP gateway, SNMP, email, Web,…)
Individual control for up to 32 rectifiers, expandable up to 60 rectifiers
Comprehensive system control functions
Comprehensive Battery management
Control for up to three low voltage disconnects (LVDs)
Access security through multi-level password protection
Local firmware upgrades
Remote download for different language support
Data logging of event history
DESCRIPTION

The ACMi1000HD is a hot-pluggable, modular, flexible power system controller for DC power systems; from small systems up to very large and complex systems. The ACMi1000HD provides full control of a wide array of system parameters; voltage, load current, system capacity, protection status, battery information and alarms. The controller has local monitoring through a USB port and offers remote monitoring options via Ethernet (over TCP/IP, Internet) or via GSM or modem. The controller is supplied factory pre-configured, ready for use. It can be re-configured using Wini1000 configuration software, either on-site via the front panel USB port, or remotely.