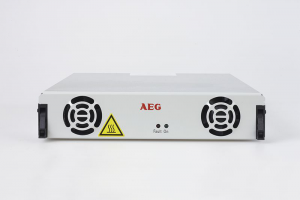 Switch Mode Rectifier Module

Output rating:
50 A (at 24 Vdc)
40 A (at 48 Vdc)
15 A (at 120 Vdc)
9 A (at 220 Vdc)
State of the art switch mode technology PM2000 rectifier provides secure DC power in combination with a parallel battery, for supply of all types of DC consumers including constant voltage and current sources. The rectifier module is suitable for charging many types of batteries including: vented lead-acid, valve regulated lead-acid (VRLA) or nickel-cadmium batteries (NiCd). It can also be used as a direct power supply without batteries. The rectifier can be used in Protect MIP systems.
Output rating from single rectifier:
24 V DC; 50 A
48 V DC; 40 A
120 V DC; 15 A
220 V DC; 9 A
KEY FEATURES
Compact design due to its high power density and format
Sinusoidal input current and low harmonics to reduce installation and operating costs
High efficiency to reduce operating costs
Low voltage ripple to prolong battery life time
Robust due to its very wide operating input voltage (80 to 280 V AC)
Reliable operation due to advance protection (input, output, temperature, current, power) and high MTBF
Parallel operation with load sharing function +/-5 %
Adjustable output voltage
Automatic stop on high and low mains voltage with automatic re-start
Self-protection against high temperature conditions via automatic output power de-rating
Fan speed control and monitoring – low noise, extended fan life time
Fan monitoring with alarm signaling when failed
Easy removing for simple maintenance
Easy to operate: compact, light, hot-pluggable, clear indications by LED, adjustment free, ready to use
Control and alarm functions for remote management
ROHS compliant
DESCRIPTION

After an EMI filter, the single phase mains AC voltage is boosted with a Power Factor Corrector to smoothed 400 V DC voltage. This allows it to achieve a power factor of > 0.99. From this, MOSFETs generate an AC voltage of 100 kHz. Through a transformer, the galvanic insulation and the voltage adjustment take place at the secondary side.
The high frequency AC voltage is then rectified by means of fast-acting diodes. An output filter is installed to reduce the voltage ripple. The output voltage and current are controlled by pulse width modulation of the transistor switch on the primary side.