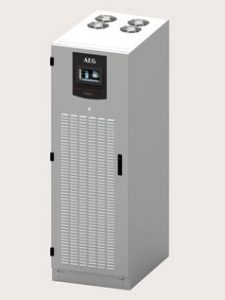 Industrial UPS
10 – 40 kVA
1/1, 3/1 or 3/3 phase
transformer-less
up to 4 UPS in parallel operations
A new concept of UPS systems that combines a modular architecture based on 10 and 15 kVA/kW hot-swappable power modules, transformer-less and IGBT-based, with a customizable set of options.
As industrial grade fully modular UPS, the system is a simplified, flexible and highly cost-effective UPS which can cope effectively with harsh environmental conditions, with an IP43 rating protection. Protect Flex is designed to maximize savings in terms of footprint and power installed (kVA).
Protect Flex's innovative design encapsulates AEG PS' unmatched expertise in securing power for industrial applications where flexible, reliable and robust solutions, with customized options, are needed: chemical and petrochemical industry, power generation, mining, transport application applications, healthcare environments (group 0-1 according to IEC 60364-7-710).
KEY FEATURES
Transformer-less UPS with internal modular design
N+1 inbuilt power redundancy architecture
VFI SS 111 technology (up to 94 % efficiency)*
ECO Mode available (up to 98 % efficiency)*
Input PF > 0.99, THDi < 4 %(without additional filters)
Output PF up to unity and compatible with inductive or capacitive loads without derating
Ingress protection up to IP43 (more rugged environmental protection available upon request)
Integrated static and manual bypass lines
Parallel capability up to 160 kVA (4 x 40 kVA in parallel)**
7″ color Touch Screen graphic
Connectivity options: SNMP, Modbus, BACnet®
Phase configuration options: 1/1, 3/1 and 3/3
*Conditions apply
**According to the UPS system configuration
BENEFITS
Maximize savings in terms of footprint (m2), power installed (kVA), electrical system (cabling and protection devices), security (MTTR and MTBF) and most importantly, power management (kW and cost).
Scalable architecture reduces CAPEX and optimizes OPEX costs. The power modules use the latest IGBT technology with a low input THDi and almost unity input power factor, even when a low percentage of load is applied: no need of any additional power-consuming filter.
Direct connection to the grid, simpler to install.
Fast recharge time even with higher capacity: for long runtimes, the UPS can be installed with one (or more) optional 15 A battery charger.