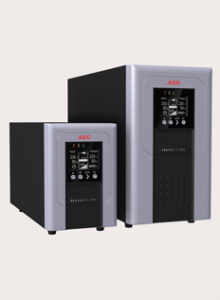 Tower-UPS
double-conversion (VFI)
parallel mode possible:


The new Protect C UPS from 1000 to 3000 VA power represent consistent further development of the well-proven and highly reliable series. With the lag increased to 0.8, the power factor was taken into account for the demand for higher performance active consumers. The ECO and frequency inverter for operation mode highlights the requirements for a modern versatile UPS.
6 & 10 kVA: Highly integrated switches and a robust IGBT module reduce the number of electrical connections and components and therefore provide for increased reliability. A Static Bypass Switch (SBS) and/or an automated bypass ensure additional safety in case of overload.
KEY FEATURES
PROTECT C. 1000 / 2000 / 3000
VFI topology (online / double conversion) protection against all mains network problems
Extremely wide input voltage window of 110 VAC to 300 VAC without stress on the internal battery system and with a stable output voltage
ECO and frequency operating voltage possible
Expansion slot for SNMP, potential free contacts, remote display
Graphic LCD display with interactive multilingual user interface
Configuration options (password protected) via the operator terminal
Internal hardware data logger with plain text display and date / time stamp
Emergency power off on terminal block (potential-free)
24 months standard warranty
Additional warranty extensions up to 60 months available
PROTECT C. 6000 / 10000
VFI topology (online/double conversion) protects against all network problems
Micro processor control/ digital signal processors for maximum availability
Sinus-shaped power feed (high-frequency pulse width modulation with IGBTs)
n+x technology for redundancy and performance increase
Extension slot for SNMP, potential-free contacts, remote panel
Also available as an S-version with reinforced charging rectifier
Space saving design with integrated battery system
Integrated fault operation security for manual bypass switch
DESCRIPTION
Optimal control and information

"Dual-monitoring" enabled interfaces extend communication opportunities. The universally usable communication slot also allows for the integration of SNMP network interface cards that allow for monitoring and management options, particularly multi-server shutdown. The AEG "CompuWatch" shutdown software is always included. The multilingual graphical LCD display provides all the important operating states and values that can be stored and retrieved in addition to real-time data storage in plain text.
PROTECT C. 6000 / 10000
Switchable in parallel

Protect C. 6000 and C. 10000 offer the possibility of parallel operation. Both active redundancy and higher availability are achieved with higher power requirements being taken into account. Also, the combination of power increase and active redundancy is possible, as up to 3 devices can be switched in parallel. Protect C meets the highest security and availability requirements and allows for an economical implementation.
Autonomy Times