UPSaver: 100 kW – 12,8 MW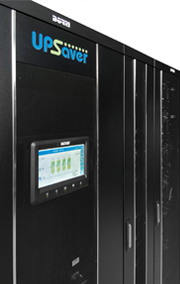 Maximum energy savings together with high quality power for your data center? Now it's true with Borri UPSaver® the new generation 4.0 UPS.

Certified efficiency up to 99.5%
Modular and scalable up to 12.8 MW
Hot system power growth
Minimum maintenance needs
Whatever your mission critical application is we provide you the right system
Benefits:
4 level modularity for maximum flexibility
Its modular design allows easy system resizing by addition of power modules. Maintenance operations can be done without powering down the system and without switching to bypass line.
Continuous savings
Certified maximum efficiency in all modes of operation: 96% in double conversion mode, thanks to patented Green Conversion technology, 97% in active filtering mode, 98% in ECO mode and 99.5% in UHE mode. With smart-parallel control unnecessary modules are switched off to further enhance system efficiency.
Low environmental footprint
UPSaver® can feed at maximum efficiency any load up to unit power factor and its transformer-free design makes it lighter and more compact for a higher environmental sustainability.
4 UPS in one for maximum versatility
UPSaver® can operate in all International Electrotechnical Commission classified modes of operation: double conversion (VFI), active filtering (VI), ECO mode (VFD) and Ultra High Efficiency (VFD).
Low maintenance cost
Green Battery Management and Green Conversion technology save battery life, by mitigating the major root causes of battery ageing, such as ripple current and floating charge micro currents. UHE mode of operation dramatically increases the duration of wearing components.
Maximum safety
UPSaver® comes with both detection circuitry and input terminal disconnection contactor for maximum operator safety.
Features:
UPSaver® is based on 100 kW or 200 kW unit modules and an I/O module for cable connection, system bypass and user interface. Unit modules have removable sub-modules for easy maintenance and low MTTR.
Configuration options include N+R redundancy, distributed and centralized static bypass.
The I/O module is designed to allow unit modules hot connection and disconnection without switching to bypass line.
Users can set any of its 4 modes of operation or activate UPSaver® strategy algorithm, which dynamically sets the best one according to mains conditions, to provide critical loads with high quality power at the highest efficiency.
Unit input power factor, input THDi <3%, programmable soft start and hold-off features make UPSaver® your Genset's best friend.
Philosophy:
UPSaver® is a complete, very high efficiency, multi-function and fully adaptable power protection system for your mission critical application. The flexibility of the system is achieved by using power modules, which can be configured as either stand-alone units or modular systems.
From Uninterruptible Power Supply to Uninterruptible Power Saver: a permanent saving system continuously monitoring the mains to guarantee high quality power to your ICT equipment at minimum energy usage.
UPSaver® Technical Specifications
Input
| | |
| --- | --- |
| Connection type | Hardwired 4w (rectifier), 4w (bypass) |
| Nominal voltage | 400 Vac 3-phase with neutral (rectifier), 380/400/415 Vac 3-phase with neutral |
| Voltage tolerance | -20%, +15% (rectifier), ±10% (bypass) |
| Frequency and range | 45/50/60 Hz |
| Power factor | 0.99 |
| Current distortion (THDi) | <3% |
Output
| | |
| --- | --- |
| Connection type | Hardwired 4w |
| Nominal voltage | 380/400/415 Vac 3-phase with neutral |
| Frequency | 50/60 Hz |
| Voltage regulation (VFI) | ±1% static; dynamic: IEC EN 62040-3 Class 1 |
| Power factor | Any power factor up to 1, without power derating |
| Overload capability | Inverter: 101÷125% for 10 min; 126÷150% for 1 min; bypass: 150% continuous, 1000% for 1 cycle |
| AC/AC efficiency | Up to 99.5% |
| Classification as per IEC EN 62040-3 | VFI-SS-111 |
Environmental
| | |
| --- | --- |
| Operating temperature | 0°C ÷ +40°C |
| Storage temperature | -10°C ÷ +70°C |
| Altitude | <1000 m |
| Audible noise at 1m (dBA) | <50 (UHE) |
System
| | |
| --- | --- |
| Protection degree | IP 20 |
| Colour | RAL 9005 |
| Installation layout | Wall, back to back and side by side installation allowed |
| Accessibility | Front and top access, bottom and top cable entry |
| Use in parallel | Up to 8 UPS, for a total of 12.8 MW |
Standards and certifications
Quality assurance, environment,
health and safety
ISO 9001:2008, ISO 14001:2004, GOST, BS OHSAS 18001:2007
Safety
IEC EN 62040-1
EMC
IEC EN 62040-2
Test and performance
IEC EN 62040-3
Protection degree
IEC EN 60529
Marking
CE
Connectivity and function extensions
Front panel
Touch screen display
Remote communication
Included: serial RS232 and USB; input terminal block for remote emergency power off (REPO), battery circuit breaker aux. cont., external maintenance bypass circuit breaker aux. cont.
Optional: input terminal block for diesel mode aux. cont., ModBus-TCP/IP (Ethernet); ModBus-RTU (RS485); ModBus-RTU to PROFIBUS DP adapter; SPDT contact relay board; UPS managing and server shutdown software
Optional function extensions
Isolation transformer, external maintenance bypass, custom battery cabinets, wall-mounted battery fuse switch box, battery thermal probe, parallel kit, load-sync for single UPS and load-sync box (2 UPS systems), tripping coil for bypass disconnector for UPSaver FPU
UPSaver® Stand Alone Units FPU* (Fixed Power Unit)
| | | |
| --- | --- | --- |
| Nominal power (kW) | 100 | 200 |
| UPS dimensions WxDxH (mm) | 460x920x1690 | 800x950x2100 |
| UPS weight (kg) | 360 | 720 |
* A Fixed Power Unit (FPU) is made of a 100 kW or 200 kW Basic Power Unit (BPU) plus all circuit breakers and control logics for use in stand alone configuration
UPSaver® 100 kW Modular Units GPU* (Growing Power Unit)
| | | | | | |
| --- | --- | --- | --- | --- | --- |
| Rating | 200 | 300 | 400 | 500 | 600 |
| N nominal power (kW) | 200 | 300 | 400 | 500 | 600 |
| N+1 nominal power (kW) | 100 | 200 | 300 | 400 | 500 |
| UPS dimensions WxDxH (mm) | 1420x920x1690 | 1880x920x1690 | 2340x920x1690 | 2800x920x1690 | 3260x920x1690 |
| UPS weight (kg) | 800 | 1150 | 1500 | 1850 | 2200 |
* A 100 kW Grow Power Unit (GPU) is made of many 100 kW Basic Power Units (BPU) plus an I/0 module including all circuit breakers and control logics required for use in modular configuration
UPSaver® 200 kW Modular Units GPU*
| | | | | | | | |
| --- | --- | --- | --- | --- | --- | --- | --- |
| Rating | 400 | 600 | 800 | 1000 | 1200 | 1400 | 1600 |
| N nominal power (kW) | 400 | 600 | 800 | 1000 | 1200 | 1400 | 1600 |
| N+1 nominal power (kW) | 200 | 400 | 600 | 800 | 1000 | 1200 | 1400 |
| UPS dimensions WxDxH (mm) ** | 2350x970x2100 | 2950x970x2100 | 3900x970x2100 | 4500x970x2100 | 5100x970x2100 | 6800x970x2100 | 7400x970x2100 |
| UPS weight (kg) ** | 1660 | 2260 | 2920 | 3590 | 4190 | 4960 | 5560 |
* A 200 kW Growing Power Unit (GPU) is made of many 200 kW Basic Power Units (BPU) plus a I/0 module including all circuit breakers and control logics required for use in modular configuration
** Data refer to distributed static bypass configuration with modular battery