RCB.e DC UPS 50 – 150 A 3ph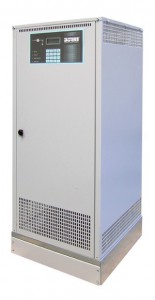 3-Phase Input Compact Rectifier Battery Chargers
Compact, heavy duty Rectifier Battery Charger with full galvanic insulation.
Designed to supply auxiliary loads, Switchgears and Protection Relays of Electrical Substations, in the Utilities applications.

Input Rectifier transformer for AC/DC galvanic separation
Standard configuration for cost-effective, short lead time solutions
Reduced footprint of the cabinet for easy installation
16 Bit microcontroller control, digital control panel with history of alarms, full set of communications options
Benefits:
The product is available in a well defined configuration, immediately usable for a wide range of applications. Fast delivery time for standard configuration is granted.
The product layout, allow to the final user the possibility of an easy and fast maintenance. All the components are well disposed inside the unit, and the panels can be installed against the walls.
The product can be easily added to any existing project, thanks to the experience and knowhow of Borri engineering team. The customer will be supported from our technical department, along the entire cycle of the project.
The product include an advanced user interface, and powerful tools for troubleshooting and monitoring. All the basic and advanced operations, will be done using simply the user interface of front panel.
Features:
SCR rectifier, overvoltage, undervoltage protection for reliable operation in all mains conditions
Easy integration with external devices like Explosion Proof enclosure, Distribution Panels
Comprehensive set of communication interface like serial port RS232 and free voltage contact
Support vented/sealed lead acid batteries and vented/gas recombination NiCd batteries
Adjustable manual and automatic charging mode for maximum flexibility on operation
High-Speed last generation microcontroller, for best-in-class performance and reliability
RCB.e technical data
| | | | |
| --- | --- | --- | --- |
| Rating (A) | 50 * | 100 | 150 (RCB.e only) |
Input
| | |
| --- | --- |
| Nominal voltage | 230 Vac 1-phase (RMB.e) or 400 Vac 3-phase (RCB.e) ±10% |
| Frequency | 50/60 Hz ±5 Hz |
Output
Nominal voltage
24/48/110/Vdc,220 Vdc only for RCB.e
Operating voltage
Floating: 2.27 (VRLA), 2.2÷2.3 (VLA), 1.4÷1.5 (Ni-Cd) V/cell adjustable
Boost: 2.4÷2.45 (VLA), 1.5÷1.65 (Ni-Cd) V/cell adjustable
Equalizing: up to 2.35 (VRLA), up to 2.7 (VLA), up to 1.7 (Ni-Cd) V/cell adjustable
Static voltage regulation
±1%
Voltage ripple
≤1%
Overload capacity
<120% for 20 min; <150% for 2 min; >150% for 20 s
Charging characteristic
IU (according to DIN 41773), I1I2U, U1U2I
System and environmental
Isolation
Input/output
Dimensions WxD (mm)
550x1300x550
Weight (kg)
Product weights vary with output rated current and voltage (see the table below)
Rating
50
100
150
Output voltage
RMBe
RCB.e
RMBe
RCB.e
RCB.e
24 Vdc
80
90
90
100
110
48 Vdc
90
100
100
115
135
110 Vdc
100
115
110
145
175
220 Vdc
–
150
–
180
240
Cooling
Forced ventilation
Colour
RAL 7035
Protection degree (IEC 60529)
IP21 (option up to IP41)
Operating temperature
-10 °C ÷ +40 °C
Storage temperature
-20 °C ÷ +70 °C
Altitude
<2000 m (derating according to EN 62040-3)
Audible noise at 1 meter (dBA)
<65
Options
Associated battery cabinets; matching cabinets for distribution and dropping cells;
built-in battery breaker; external battery breakers in standard or Eex-d
wall-mounted box; battery thermal probe; block diode for parallel;
earth fault alarm; fan monitoring and alarm; control logic redundant supply
User Interface
Front panel
LCD display with 4x LED set, mimic and keyboard
Connectivity (optional)
up to 2 SPDT contact relay cards, RS232 serial port, RS485 ModBus-RTU serial port,
ModBus to PROFIBUS DP adapter, Ethernet SNMP/WEB adapter,
remote monitoring software
*25A size available only for RMB.e (more details on request)