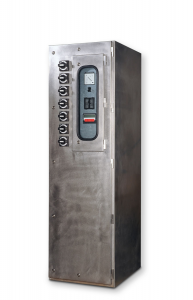 Thyristor controlled ruggedized Rectifier & Charger System

Protect RCS is designed to provide high reliability power supply and battery charging capability. The Outdoor Plus version provides the same level of protection to your equipment and processes and complies with the stringent protection standards according to IEC 60529 (IP 65). Protect RCS is a thyristor-controlled rectifier suitable for charging nickel-cadmium or lead-acid batteries while supplying DC loads. It can also be used without batteries as a direct power supply. The rectifier is built from independent building blocks and can be supplied with optional equipment as required. Cabinets are floor mounted. The batteries are installed in a separate cabinet from the rectifier. The Outdoor Plus version has been designed to have a natural cooling process, which simplifies maintenance and decreases total cost of ownership.
KEY FEATURES

Input:
400/480 VAC 3-phase
Output:
24VDC;50–250A
Heavy duty design
Natural cooling
Outdoor cabinet (IP 65 compliant according to IEC 60259)
Proven microprocessor-controlled thyristor technology
Building block design
High MTBF and low MTTR
Built-in protection
Digital processing and setting of all parameters
Monitoring of all parameters via the front panel display
Built-in intelligent battery management
Temperature-compensated charge voltage regulation
Manual or automatic high rate charge
Parallel operation
Alarm and event logger, including a date and time-stamped event log memory
Ease of installation, start-up and maintenance
International service support
CONFIGURATIONS
Standard system

The Protect RCS range of systems has been preconfigured with a number of the most commonly requested features built-in as standard. These systems are available "off-the-shelf" with standard drawings and standard user documentation.

Standard configuration
Single system with building block modular design
Internal rectifier input switch Q1
6-pulse rectifier bridge with input isolation transformer
Digital control card GCAU
Output filter L1-C1 ripple voltage <5 % RMS without battery
Rectifier F1 fuse and rectifier shunt R2
Blocking diode V21
Multi-functional LCD with 2 LEDs indicate the system status
Tropicalized control electronics boards
Common fault remote alarm
Floor mounted cabinet with external IP21 protection and IP20 with open doors
Cabinet colour RAL 7035
Power and control cable marking
Detailed 3-D layout and component marking presented on rear door
Door able to open to180° with three key locks
Bottom cable entry
Input / battery / output terminals X1, X2 and X3
Standard labeling / nameplate
Options

As needed, the standard system can be enhanced by the additional options available. System speci c drawing packages and user documentation will be automatically generated to re ect the actual options con gured. To provide exact solutions for each application, we offer a wide range of options:

System
Parallel redundant configuration with load sharing
Special mains input voltages (180 – 690 V) and frequency 60 Hz
DC ripple filter 1 % & 0.1 %
12 pulse rectifier with isolation transformer
Rectifier input MCB or fuse
Battery MCB, fuse or switch in rectifier
Battery MCB or fuse box
Load MCB, fuse or switch
Diode dropper
DC distribution
Battery installed inside the rectifier cabinet
Communication
RS232 / RS485 interface
RS232 / RS485 Modbusprotocol
TCP / IP interface
Protocol converters (Profibus DP, J-bus DNP3,IEC 61850 )
Monitoring andmanagement software
Modem
Alarms / signaling / measurement
LED alarm indicatorsin front panel
Relay cards 2 x 8 free contacts
Additional analog meters
Low electrolyte level alarm
Audible alarm
Temperature charging compensation sensors & cables
Temperature alarm
High DC ripple voltage alarm
Cable drop compensation
Battery circuit failure alarm
Ground fault alarm
High rate interlock
Remote control options
Rectifier shutdown command
Forced floating charge command
Alarm reset
High rate charge command

Additional options are available on request