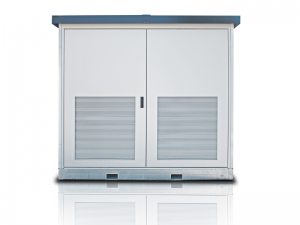 Metal Housing

for central inverters
The The PV.Metal Housing system is a light and compact connection comprised of an outer metal housing (with optimum corrosion protection) and an integrated Protect PV solar central inverter. The system is characterised by its low weight and small dimensions; it can be used virtually anywhere. With this system, owners of large solar power plants benefit from the compact design and reduced transport and assembly costs.
KEY FEATURES
Utility scale transformer-less design
DC voltages up to 1,000 Vdc
Designed for harsh environments
Communication interfaces (Modbus / Can Bus)
Monitoring, control, reporting and management tools
Stable and reliable
Excellent availability
Meets the BDEW guidelines
Easy to maintain
Lifetime of more than 20 years
Medium voltage 10, 20 kV or other, as required
DESCRIPTION

The PV.MH is made of specially treated galvanised steel sheet mounted on a concrete foundation. Components such as the transformer and medium-voltage switchgear are located in a separate compact station, that can connect two PV.MH units with the medium-voltage grid.
Ethernet and fiber optic communication channels connected to the skylog via open standards such as ModBus or Ethernet form the foundation for communications in PV power plants using AEG PS solar central inverters. A powerful online communications platform allows owners and operators to view the current and historical system status at any time.