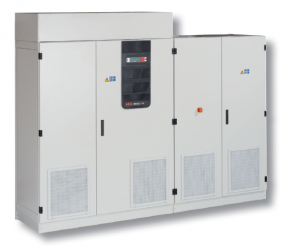 Central Inverter UL
500 & 630 kW
also available as outdoor solution
Certified to UL-1741, the Protect PV.500-UL and PV.630-UL inverters from AEG Power Solutions offers professional solutions for utility-scale applications. A key feature of the PV product line is its power stack with advance-design measuring and control technology enabling DC input voltages of up to 1000 VDC. In addition to savings on DC wiring and combiner boxes as a result of the higher DC input voltage, the UL-1741 certified Protect PV.UL meets utility code requirements and facilitates AHJ approval.
KEY FEATURES

With an efficiency factor over 98%, the Protect PV.500-UL and PV.630-UL well exceed expectations for their power class. With an appropriate transformer, it can also be adapted to the low voltage grid (LV 480 VAC) or medium voltage grid (e.g. 12.47, 34.5 kV).
Maximum Power Point Tracking is designed to meet the latest requirements for quick responses to dynamic weather conditions such as spontaneous cloud cover on a clear day, and reliable day/night detection (active/passive). The MPPT algorithm has been independently tested by the Fraunhofer Institute for Solar Energy Systems at eight different power levels, nine different DC voltages, and for both thin-film and crystalline solar panels.
The Protect PV utility scale inverters from AEG Power Solutions have grid management features that can be adapted to the unique requirements of the utility. With four different ways to provide reactive power control, adjustable settings for Low Voltage Ride Through, provisionable ramp parameters for start and stop operations, options to adjust the effective power to stabilize grid frequency, and remote power control, the flexibility of the Protect PV.500/630-UL inverters are unmatched.