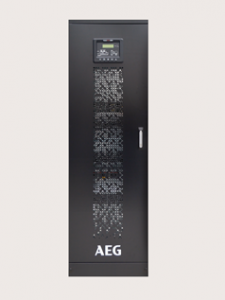 Monoblock UPS system

30 – 200 kVA
3-phase
transformer-less
up to 6 units
in parallel operations
The Protect Plus S500 is a transformer-less UPS that combines high AC/AC efficiency values with a compact footprint and flexible configurations. Up to 6 units in parallel operation provide up to 1.2 MW power.
Full IGBT double-conversion technology
Low input THDi combined with a near to unity input power factor
Double conversion UPS (VFI SS 111), offering an AC/AC efficiency up to 95.5%
ECO Mode, with efficiency up to 99 %: reducing the utility costs and heat waste resulting in minimized air conditioning costs
Dynamic Charging Mode (DCM)
KEY FEATURES
Product range: 30 to 200 kVA
Transformer-less architecture
Full IGBT Double Conversion (VFI-SS-111)
ECO mode (VFD)
Apace for internal batteries (up to 80 kVA) or Isolation transformer (up to 100 kVA)
Life-prolonging Battery Management
Parallel capability: up to 6 modules, with CAN bus loop
Load Bus Synchronization (1 + 1 or 3 + 3)
Full compatibility with generators
Many optional features
Options:
Remote EPO
External manual bypass status
Diesel Mode (Optional from 30 to 50 kVA; standard for 60 to 200 kVA on models)
Parallel kit for increasing capacity or redundancy (up to 6 units)
Load-sync control for dual feed systems
Input isolation transformer (inbuilt up to 100 kVA models)
Inbuilt battery solutions (up to 80 kVA)
External battery cabinets
External manual bypass box (wall-mounted)
Battery switch box
Battery thermal probe
Top cable entry
Back-feed protection (contactor up to 50 kVA; internal tripping coil from 60 to 200 kVA)
User interface and accessories:
User-friendly interface
Monitoring, managing and shutdown software
Front access for all maintenance operations
10″ color touch-screen display
(for 200 kVA models)
Communication options:
RS232 serial port (standard)
USB port (standard)
Web/SNMP
ModBus
Relays
Remote panel
DESCRIPTION
Efficiency
Protect Plus S500 can reach the highest AC/AC e iciency levels, up to 95.5 % in online double conversion mode (VFI SS 111). Its flat efficiency curve from 35 % of load ensures maximum energy savings at every load percentage. Moreover, with a stable mains power supply and load condition, the UPS can achieve up to 99 % efficiency in ECO mode.
Battery Management
Batteries are electro-chemical devices, which store their charge chemically, as such their performance degrades over time. The Protectplus S500 series o ers a Battery Anti-Aging Control (BAAC) that works with the connected battery manufacturer's requirements. Following a UI characteristic curve, the rectifier charges at a constant current appropriate for the battery type used, to prevent damage from excess overcharging. In addition to the float voltage level, a boost charge can be set, optimizing recharge time for when there is the possibility of consecutive power outages within a short time period. BAAC also reduces the residual ripple current (one of the causes of premature battery failure), as well as protecting the battery from deep discharge damage. An automatic battery temperature compensation charge voltage can also be activated to help increase battery life.
Dynamic Charging Mode
From 60 kVA power models, Protect Plus S500 also offers a DCM (Dynamic Charging Mode) function: for very long battery autonomy, the UPS can achieve the nominal recharge time required, by increasing the recharge current up to 100 A of the recharging current. This is achieved using an intelligent charging function that can operate when the load is drawing less than the maximum power output of the inverter. An integrated periodic battery testing function tests and monitors battery health, providing advanced warning to guide the application of preventive maintenance.
Parallel Control System for easy upgrade to connected UPS
The Protect Plus S500 UPS solution offers parallel options for both redundancy and capacity modes, providing the possibility for extra system resilience and increased capacity. The parallel control circuitry associated with these units is fully digital and acts on both active and reactive power on each of the three output phases. This allows accurate load current sharing among the UPS units even during transient conditions. Up to 6 UPS units (of the same power rating) can be connected in parallel.
Feature Rich Intelligence
Parallel control is distributed between all units and communication is achieved through the use of a CAN bus connection loop. This has the effect of producing a highly reliable system with "no single points of failure". Intelligent design of system connections, allows for easy installation and future field upgrades. In a parallel configuration, UPS can be added or removed without load disturbance or the need to switch to bypass thanks to the 'hot' connection design.
The Smart Parallel function can automatically switch o the UPS when the total load connected can be met by the remaining powered UPS. This is known as "load based shutdown" and maximizes the overall efficiency of the complete system by maintaining the load of each UPS at an optimum level.
The AEG PS Protect Plus S500 can be installed near walls or next to other cabinets as cooling air is expelled through fans on the top of the unit. This design gives the user a significant savings in floor use and makes the Protect Plus S500 UPS an ideal solution where space is at a premium. Despite its modern compact design, all critical components are accessible from the front of the unit; this improves accessibility to allow regular maintenance and reduced Mean Time to Repair (MTTR).