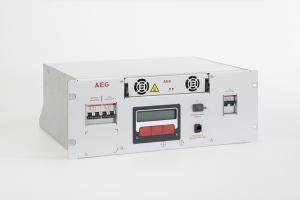 Switch Mode Rectifier System

DC Output:
50 A (at 24 Vdc)
40 A (at 48 Vdc)
15 A (at 120 Vdc)
State of the art switch mode technology, Protect MIP rectifier system is designed to be compact, simple to use and easy to maintain. It allows you to benefit from low electromagnetic pollution and high efficiency, resulting in a cost effective system with reduced operating costs, short delivery time and prepared for easy integration in cabinet.

Output rating from single rectifier:

24 V DC; 50 A
48 V DC; 40 A
120 V DC; 15 A
KEY FEATURES
Compact 19 inch design
Sinusoidal input current and low harmonics
High efficiency; reducing operating costs
Low voltage ripple to prolong battery life time
Robust due to very wide operating input voltage (80 to 280 V AC)
Reliable operation due to advanced protection (input, output, temperature, current, power) and high MTBF
Soft start
Adjustable output voltage
Automatic stop on high and low mains voltage with automatic re-start
Self-protection against high temperature conditions via automatic output power de-rating
Easy to operate: compact, light, LCD display, clear LED indications
Ready to use; off-the-shelf
Control and alarm functions for remote management
ROHS compliant
Easy maintenance
Application
Provides permanent DC power availability in combination with a parallel battery. Supplying a full range of DC consumers including constant voltage and current sources. The Protect MIP can charge a wide variety of batteries, including: vented lead-acid, valve regulated lead-acid (VRLA) or nickel-cadmium (NiCd) batteries. The Protect MIP can furthermore be used as a direct power supply without batteries.