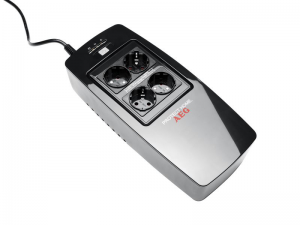 Protect Home offers high availability with overload and excess voltage and surge protection for PC, Mac, telephone, faxe and modem via direct connection to the UPS outlets. LED and audible alarm notification provides clear information about the most important operating conditions. Via the USB or RS232 interface a PC can be connected to operate using the "CompuWatch" software.
KEY FEATURES
Rugged UPS technology for power outages, voltage fluctuations and spikes
USB and RS232 interface for control and management for PC and MAC
Fully fledged "CompuWatch" "plug & play" software
Data line protection (telephone, fax and modem)
User friendly battery design
Individual operation, wall mountable
1 output for connecting consumers with high power requirements such as laser printers
24 months standard warranty
Additional warranty extensions up to 60 months available
DESCRIPTION
Practical Protection

Especially for home application, the Protect Home. offers data line surge protection for telephones. faxes and modems. Connections are made directly to the UPS outlets. Protect Home. proves itself in critical situations with its high availability due to a sturde overload and excess voltage protection. Thanks to its user-friendly battery design Protect Home. emphasizes its remarkable economy.
Simple Operation

The "One-Board-Design" as well as LED notification provides clear information about the units most important operating conditions. With the addition of an audible alarm the user is provided with clear notification of critical events.
USB and RS232 Connections for Simple Control

The Protect Home. is quickly connected to a USB or RS232 interface. Through the special AEG shutdown software "CompuWatch", which is included, the unit allows you to control the most important operations as well as provides for automatic shutdown during longer power outages.
Autonomy Times