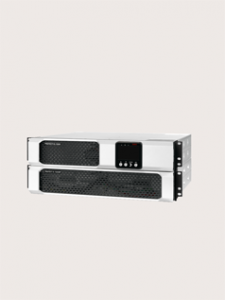 Rackmount UPS
double-conversion (VFI)
1000 VA, 1500 VA
2000 VA, 3000 VA
parallel mode possible:
6000 VA, 10000 VA


Highly efficient with a compact design, Protect D. achieves more than 20% higher power in comparison to conventional UPS systems. Providing outstanding performance, superior reliability and longer autonomy times, Protect D. also offers multiple communication options, advanced battery management and graphical control in one modular unit.
KEY FEATURES
VFI topology (online /double conversion) protects against all network problems
An increase of the available performance by approx. 20 % through a 0.9lag power factor
Increased efficiency through the ECO and ECO+ mode
Advanced battery charging technology for maximum durability of the battery
Hot-swappable batteries, easy replacement through hinged front
Additional battery packs for easy scaling of the autonomy times
Extension slot for communication cards, communication in parallel is possible through the RS232 / USB interface and SNMP
Low height (2 U) including integrated batteries
Switchable UPS outputs with innovative locking mechanism
Display of the UPS parameters on a graphic LCD, direct configuration is possible with the control panel
Freely programmable potential-free contact plus emergency shutdown contact
May also be used as a frequency converter
24 months standard warranty
Additional warranty extensions up to 60 months available
Addtional features of Protect D. 6 & 10kVA
Suitable for IT cabinets with a depth of 800 mm
High power density in a compact housing
Very easy assembly through removable connection unit and batteries with plug-in technology
Dual or single input
Prepared for parallel operation
Integrated manual maintenance bypass (foolproof operation)
DESCRIPTION

Efficiency
With a high power factor of 0.9lag the Protect D. series exceed the power of conventional UPS systems by 20 %. Efficiency is significantly increased during normal operation as well as in the energyefficient ECO and ECO+ operating modes.

Battery management
All batteries can be replaced during operation (hot-swappable). Our advanced battery charging technology allows for short charging times and battery-preserving charging characteristics at the same time.

Innovative Security
An innovative locking mechanism at the UPS outputs prevents accidental separation of the loads.

Additional features
With the converter mode the UPS can be used as frequency converter or as a line conditioner with an effective output voltage of 200V or 208V.

Communication
Many interfaces (RS232 / USB / Slot / EPO) as well as a potential-free contact within the series ensure an outstanding communication capacity. A real-time event logger ensures careful observation and analysis of events as they occur. In addition, a regular automated battery test can be planned.

Graphical display
The multilingual graphic screen is very easy to read, even from a longer distance, thanks to its large format. Together with three LEDs at the top, it displays the essential operating conditions. The UPS can be directly administered with the control panel

Compact Design
The height of the UPS electronics and battery together is only 2 U. With the flap front cover, battery replacement is very easy. The autonomy times can be increased with additional battery packs; connected battery packs are automatically detected.
Special characteristics of Protect D.6000/10000

Compact housing dimensions
Thanks to their compact design, the devices can also be used in IT cabinets with a depth of only 800 mm. Protect D. 6000 including battery, connection unit and manual bypass unit fits within 3 standard height units. The 10 kVA version, with a complete battery system, connection unit and integrated manual maintenance bypass fits within 5 standard height units. The sophisticated design with removable connection unit and battery systems with plug-in technology make the assembly in the rack and the electrical installation as easy as possible. The weight is unimportant as the batteries can be mounted at the end of the installation.

Flexible and maintenance friendly
The equipment offers separate feed for the rectifiers and bypass, Protect D. 6000 and 10000 can also be operated with only one feed. Both options are provided to deliver highest flexibility and security. To increase power or to be able to serve the demand for active redundancy, Protect D. 6000 and Protect D. 10000 are prepared for parallel operation.In order to ease maintenance work, a manual bypass is already integrated into the removable connection unit.
Autonomy Times