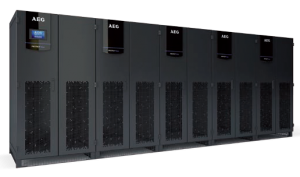 Data Center High Power UPS
250 – 4000 kW
Input: 3-phase
Output: 3-phase

KEY FEATURES
Flexible power configuration from 250 kW
Parallel switching up to 5 Power Blocks in a single array, and a total power up to 4 MW (4 arrays of 1000 kW)
Developed for tomorrow's power supply system: need- and price-oriented energy management
High operating security through a flexible redundancy concept
Highest possible typical efficiency of up to 96 % during genuine "online" operation
Three operating modes available: double conversion (VFI), ECO mode (VFD) and Idle mode
Low input THDi <3 % »Output power factor up to 1
Intuitive 7″ touch screen
Front access to all important components
Wall assembly possible
Extensive communication options
Highest reliability based on quality components and many years of AEG industry experience
Smart grid ready **
Bi-directional rectifier technology **
Unique AeBM battery management system maintains the battery
** Special Version Smart Grid Ready
STANDARD FEATURES
Three level IGBT rectifier
Three level IGBT inverter
Embedded static switch
Embedded manual bypass switch
Redundant cooling fans
Input inrush current limitation
DSP control
Bottom cable entry
Battery management
IU characteristic
Automatic battery test
Frequent testing without battery capacity reduction
Autonomy time reduction
Display remaining autonomy time
Programmable alarm
Graphic display and alarms
Touch screen display
800 x 480 pixel wide screen
3 status LEDs
Audible alarm
Remote signaling card
Standard configuration with options for customized configuration
1 x isolated input
5 x isolated relay outputs
DESCRIPTION
The new UPS series Protect Blue by AEG Power Solutions offers a highly efficient UPS solution for large data centers and  IT applications in power ranges up to 4 MW.
Created for the future of power supply
In times of constantly increasing energy prices, Protect Blue helps reduce the costs for operation and cooling to a great extent through high efficiency.
Protect Blue is able to feed energy back into the grid and to communicate with intelligent power supply systems. This allows for alternative energy sources (available on demand) and for future energy demands a price oriented management.
Modular architecture, flexible performance and maximum redundancy
Protect Blue is based on a 250 kW power block architecture that can be configured with parallel operation to meet high power requirements (up to 4000 kW), n+1 redundancy operation is also possible. All "Power Blocks" are equipped with decentralized control mechanisms to increase operational safety.
High efficiency during online operation
Protect Blue is transformer-less, works with the latest 3 level IGBT technology and therefore typically reaches an efficiency level of  above 95 % at a load of at least 40 %. Protect Blue combines all further advantages of this technology such as low circuit feedback <3 % and a high input power factor >0.99.
EFFICIENCY
Effective cost savings
The modular architecture of AEG PS' Protect Blue UPS allows for great advantages in terms of installation:
Reduce the size of electrical infrastructure
Reduce the size of circuit protection devices
Reduce the amount of cabling
AEG PS' Protect Blue features a unitary input power factor. Together with its low harmonics, which provide full compatibility with generator sets, Protect Blue greatly contributes to reduced installation and running costs.
AEG PS' Protect Blue delivers an up to 1 output power factor with kVA equals kW for resistive loads.
Double conversion efficiency above 95% is achieved through transformer-less topology which delivers improvement as copper heat losses are eliminated.
Running cost savings
Power module shedding
The multi-module configurable design of Protect Blue includes automatic adjustment of UPS capacity to meet immediate load demands by switching surplus module capacity to standby. This improves efficiency markedly at partial load and further reduces operating costs.
Reduction in air conditioning requirement
The extremely high efficiency achieved by AEG PS' Protect Blue reduces the energy dissipated by the UPS (kW). This has the effect of reducing the demand and power consumption of the air conditioning system. AEG PS' Protect Blue can deliver 100 % power at 40 °C operating ambient temperature without derating.  UPS rooms equipped with Protect Blue do not require massive cooling to manage a constant 25 °C temperature, unlike some legacy UPS systems.
Savings
Maximum savings
With its outstanding efficiency of >95 % in VFI mode and 99 % in ECO mode, Protect Blue's design greatly reduces the total cost of ownership from installation to end of operational life.
Optimized power / footprint ratio
Reduced footprint
Reduced air conditioning requirements
Fast and safe maintenance
Delivering savings
Minimized cost of installation
Minimized cost of operation
Minimized air conditioning requirement
Highly efficient
Reduced generator set size and operating costs
Lifetime savings
Highest quality components limit thermal stress and increase overall lifetime
Typical operational lifetime of 15 years
High quality components ensure reliability and performance
Up to 40 °C ambient temperature operating mode without de-rating
CONFIGURATION
Protect Blue Power Block 
Multi-module configuration supplies
Redundancy
Scalability
High availability
High reliability
N+1 configuration
High power configuration
OPTIONS
Remote signaling extension
Up to 2 x cards, stackable, configurable
2 x optical isolated inputs
3 x isolated relay output
Remote signaling alarm terminal
Separate terminals to connect to remote signaling card
BLU PRO
Battery voltage monitoring for battery block aging detection
Battery compensated charging
Battery charge/float charge voltage adapted to battery temperature
Communication
Modem, ISDN or GSM
Alarm management
RS485 PROFIBUS DP interface, CCP
RS485/RS232 MODBUS
Ethernet interface bus connection IEC61850
SNMP adapter

Embedded web server
Embedded email client
Embedded event manager
Direct multi server shutdown in heterogeneous networks

Environmental manager
"CompuWatch" monitoring software
COM server