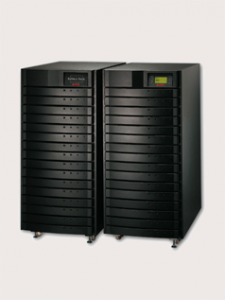 Modular UPS
online /double-conversion (VFI)
4 – 24 kVA
input: 1- or 3-phase
output: 1-phase


A highly reliable and efficient 3-phase uninterruptible power supply. The compact modular design of Protect 1.M permits flexible increase of the UPS power up to 24kVA with 4kVA automatic contact hot-swappable modules, allowing the system to be extended during live operation. Each module provides an independent UPS with complete function and works independently from a central control unit.
KEY FEATURES
High power reserves through a total performance of max. 24 kVA
Wide security margins through n+x technology
Static bypass switch (SBS) and foolproof maintenance bypass
3- or 1-phase connection of the entire installation with an automated detector, 1-phase output
Long autonomy periods available in case of power failure
Battery cabinets in the Protect 1.M range supplied with 10- to 12-year battery life according to EUROBAT
Intelligent battery management
Hot-swappable module for easy replacement during operation
Module structure to be plugged into a compact tower, assembly in 19″ rack possible
Communication module with LCD, "Dual Monitoring" interface with expansion slot
24 months standard warranty
Additional warranty extensions up to 60 months available
DESCRIPTION
Parallel operation
On the one hand, n+x technology allows a flexible adjustment of the power capacity of your UPS at any time. On the other hand, the modular construction provides an active parallel redundancy and thereby a high safety reservoir. Intelligent monitoring via display or software, as well as the possibility of using standard batteries, or AEG Power Solutions bespoke battery systems make the Protect 1.M in terms of operation and service, the complete system of choice.

Modular structure
The compact module structure of Protect 1.M allows you to flexibly upgrade the UPS power up to 24 kVA. The individual 4 kVA modules are hot-swappable, connected modules are automatically detected. In this way, you can perform system extensions during runtime. Each individual module is a separate UPS and works independently of a central control mechanism.
Intelligent control and monitoring
The powerful communication module of Protect 1.M collects information from the self-suffi cient UPS modules. The clearly designed screen informs you about all important operating conditions. You can also retrieve and control all technical parameters with the included AEG software "CompuWatch".
Autonomy Times