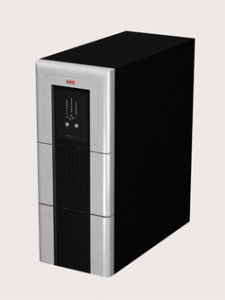 UPS
online / double-conversion (VFI)
10 kVA
15 kVA
20 kVA


A new series of high powered UPS systems ready for all business critical uses such as networks, data centers, banking and building automation. The UPS operates on the online double conversion principle offering protection from numerous power problems. Protect 1 allows the flexible and simple buildup of a parallel system with a maximum capability of 60kVA.
KEY FEATURES
VFI topology (online /double conversion) protects against all network problems
Static bypass switch (SBS) and foolproof maintenance bypass
10, 15 or 20 kVA with space-efficient, modern design
n+x technology for active redundancy and /or performance increase
Performance increase up to 60 kVA through parallel operation of up to 3 devices
RS232 interface, extension slot e.g. for SNMP adapter card
Battery systems with an expected lifespan of 10 –12 years, according to EUROBAT, are available
State-of-the-art technology for maximum reliability (DSP, CAN-Bus) and maximum efficiency (high-frequency IGBT)
24 months standard warranty
Additional warranty extensions up to 60 months available
DESCRIPTION
Online UPS systems for networks and data centers
Protect 1. offers you a high-power UPS system for all critical business applications. Among other fields of use, Protect 1. is suitable for networks, data centers, cash desk systems or building technology. The VFI topology of Protect 1. protects reliably against all network problems.

Switchable in parallel
A compact parallel switch panel ensures the flexible and easy development of a parallel system. Up to 3 devices can be switched in parallel. Hence, a power  increase up to 60 kVA is possible in addition to the combination of power improvement and redundancy.


Control and monitoring
The clearly structured screen provides detailed information on all important operating conditions and events. Data is transmitted through an RS232 interface. With the extension slot, devices such as SNMP (PRO) adapter cards or potential-free contacts can be retrofitted. This supports remote monitoring via web browser and multi-server shutdown. The special AEG shutdown software "CompuWatch" is included.
Autonomy Times