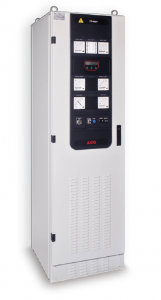 A modular and scalable design with hot-swappable rectifier modules assures low Mean Time to Repair, reduction in the service cost and meets changing needs and future expansion. Protect MIP is suitable for charging many types of batteries including: vented lead acid, VRLA or Ni-Cad batteries. It can also be used as a direct power supply.
PROTECT MIP 3 & 9 – KEY FEATURES

Input:
220/230/240V 1-phase
380/400/415V 3-phase
DC Output:
24V 50 – 450A
48V 40 – 360A
110V 15 – 135A
220V 9 – 81A
Compact design and light weight
High power density
Sinusoidal input current and low harmonics to reduce installations and operating costs
High efficiency to reduce operating costs
High availability with n+1 internal redundancy
Low MTTR due to modular design
Low voltage ripple to prolong battery life time
Reliable operation due to advance protection (input, output, temperature, current, power) and high MTBF
Flexibility of scalable power
Control and alarm functions for remote management
Simplicity of use
Easy maintenance
OPTIONS

The highly reliable range of DC systems is available in three configurations
Standard 1 – 19 inch rack mounted system with a built-in rectifier and compact set of options and alarms,
Standard 3 – rectifier system with up to 3 rectifier modules to increase the power and with set of basic options,
Configured 9 – rectifier stand alone system as a flexible DC and mixed DC & AC solution offering a large selection of options to comply with specific customer requirements.

Standard system configuration – 1 & 3 – rectifier systems Pre-configured
with a selection of the most commonly requested features built-in as standard. The systems are available "off-theshelf" with standard drawings and standard user documentation.

9 – RECTIFIER SYSTEM OPTIONS

Protections
AC Input – switch, fuses, breakers
Input contactor with external door switch
DC Load – switch, fuses or breakers, including AC & DC distribution panels/cabinets
Inverters and converters for alternative AC and DC outputs
AC and DC surge arrestors
Alarms / Signalling / Measurement
Relay card, LED Box
Alarms on protection devices
Analog meters for AC and DC measurements
Remote commands via analog and digital inputs, eg boost charge, battery room fan, remote shutdown
Custom system configuration – 9 – rectifier system
The system contains a standard set of main components for the operation of the rectifiers as well as a flexible set of extended
standard and engineering options to meet the most demanding requirements. It can be configured as a DC or DC & AC solution including configuration with batteries inside
the cabinet.
System features and basic options 9 – rectifier system
Input voltage Single or Three phase
19" sub-rack with up to 9 hot swappable rectifier modules
Commissioning switch to disable commissioning until manual switch operation
Front LCD display and keypad
AC power supply for GCAU control controller
Load and battery shunts
Bottom cable entry
Communications
EIA232, EIA485 with Profibus
SNMP/TCP IP
Battery options
Battery protection – switch, fuses, breakers,
Low Voltage Disconnect (LVD)
Battery shunt for battery measurement
Matching battery cabinets
Battery temperature probe
Mechanical options
Protection IP42 cabinet
Anti-condensation heater
Interior light
Special wiring eg low smoke, halogen free
Special colour
Special markings

Additional options are available on request
 Protect MIP 3 – Specifications
Protect MIP 9 – Specifications