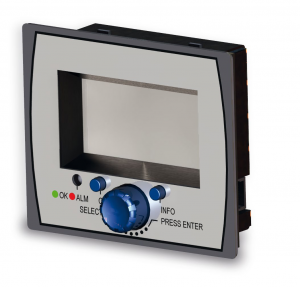 System Controller for PMi DC Power Systems
PMi-C is the advanced monitoring and control device for PMi DC Power Systems. It delivers intelligence, an easy user interface and a comprehensive set of features for DC Power System management. PMi-C architecture is based on PowerCAN bus communication and a modular design, which enables excellent system expandability, selectable additional features and flexibility in design. The PMi-C controller is the universal solution for all MIP family DC Power Systems from 24 VDC up to 220 VDC, and for other modules in the family.
SYSTEM FEATURES

PMi-C includes key features such as measurements of the indivi- dual rectifiers (AC input voltage, DC output current and voltage, temperature) as well as battery and load currents. Plug and play support, system parameters upload and download in XML format, PowerCAN-BUS interface to MRC rectifiers and smart peripheral modules as well as inventory management for installed modules.
Measurements:
System output voltage measurement
DC output current, total rectifiers Functions
Energy saving mode with PMi rectifiers
Rectifier runtime counter
Alarm configuration
Real time clock with battery backup
Automatic module configuration
Site information text input
BATTERY MANAGEMENT FEATURES

PMi-C offers a battery management system that allows for battery testing (manual/periodic), different charging modes such as floating, manual/periodic/automatic boost charge, all with temperature compensation. Multiple configurable alarms as well as a comprehensive data log (512 alarm occurrences, 100 events, and a battery temperature graph and system power log).
Natural battery tests, starts on mains fault
Charge current limiting
Discharged Ah-counter
Time window for battery test
Alarms: Mains fault, phase fault, rectifier low/over voltage, system low/over voltage, rectifier over current, system over temperature, high battery temperature, low battery temperature, rectifier fault, module communication error/module fault, load fuse fault, battery LVD or load LVD contactor failure, battery temperature sensor fault, rectifiers no redundancy alarms/rectifiers overload (configurable limits), load disconnect warning (configurable limits), load disconnect, battery fuse fault, battery discharge test fault, boost charge fault, battery disconnect warning (configurable limit), earth fault detection.