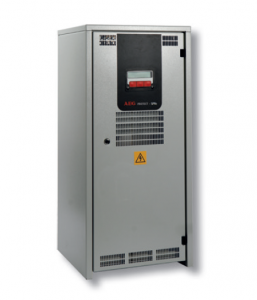 Compact Thyristor Controlled Industrial Rectifier & Battery Charger
AEG Power Solutions rectifiers assure permanent availability of all your global industrial applications including Oil, Gas & Petrochem, Power Generation, Transportation and other Infrastructures. The mSPRe has been developed and designed to provide high reliability power supply and battery charging capability in very compact design. The product is using thyristor-controlled technology and it suitable for charging nickel-cadmium or lead acid batteries while supplying DC loads. The small compact system includes all necessary function of modern rectifier to protect the load, optimize the life time of batteries and communicate with environment.

Input:
220/230/240 V AC 1 phase
DC Output:
24 V DC; 10 A
24 V DC; 25 A
48 V DC; 15 A
60 V DC; 15 A
110 V DC; 15 A
STANDARD SYSTEM

The mSPRe product has been pre-configured with a number of the most commonly requested features built-in as standard.

Single system
Internal mains rectifier input switch Q1
Rectifier bridge with input isolation transformer
Digital control card
Output filter L1-C1 ripple voltage < 5 % RMS without battery
Rectifier F1 fuse & rectifier shunt R3
Tropicalized control electronics boards
Common fault remote alarm
Cabinet colour RAL 7035 with protection IP21
Power and control cable marking
Battery temperature sensor
Battery tray for NiCd SBLe7.5/15/30, SBM/SLM 15/30, UP1M24/30 batteries – ONLY 24mSPRe10
Support for lead acid batteries
Additional battery cabinets, mBAT1 & mBAT2 for bigger battery size
Bottom or top cable entry (depending on model)
Input/battery/output terminals
Standard labeling
FEATURES & BENEFITS
Standard system configurations – cost effective, short lead time solutions
Compact design with built-in protection
Proven microprocessor-controlled thyristor technology
High MTBF and low MTTR
Digital processing and setting of all parameters
Monitoring of all parameters on the front panel display
Built-in Intelligent battery management system including temperature-compensated charge
Ease of installation, start-up, maintenance with front access