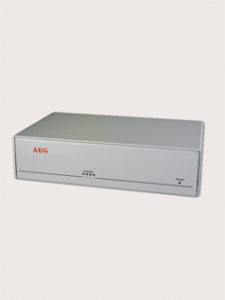 Intelligent load management via CompuWatch or network management software
Load switchbr / In combination with the SNMP (PRO) Adapter, the Load Switch enables intelligent load management using a UPS monitor, web browser or UNMS. The four output circuits can be operated individually, allowing delayed on/off switching as well as event-driven switching (if a power outage occurs, for example).
The front panel has four LEDs indicating the current switch status.
KEY FEATURES
Four separately controlled load circuits, each with an IEC320 C13 connector
Individually programmable for automated remote circuit/load management
Robust metal enclosure designed for tower and 19" rack installation
Plug-and-go design for easy installation and expansion
On/off switching via 10/100 Mbit Ethernet TCP/IP connection
Secured using password-protected levels