GIOTTO: UPS 450 – 2000 VA 1/1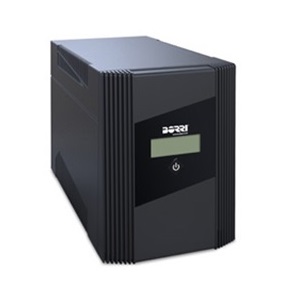 Compact UPS
450-2000 VA Line-interactive 1-phase
Line-interactive (VI) 1-phase UPS, ideal for home and small office PC, CCTV and security systems. Ensures your systems availability, protects your equipments and peripherals from power failures causing data loss and hardware damage.

User-friendly, plug and play, ready to use
Compact and noiseless, can be placed anywhere
Energy efficient, ensuring low energy costs and environmental impact
Free downloadable software
Benefits:
Automatic Voltage Regulator (AVR)
Automatic start
Auto shut down in the event of a mains fail
Smart LED Display
User-replaceable battery
Filtered socket protection against overvoltage for LAN/ADSL
USB port for direct PC connection
Borri Power Guardian, user-friendly UPS management software free downloadable at www.borri.it/support. Borri Power Guardian is available for MAC, Microsoft and Linux operating systems, providing UPS management, safe system shutdown during blackout or other computer failure and remote diagnostics of main settings.
Features:
Line-interactive UPS with VI technology
AVR technology (Automatic Voltage Regulation)
Full compliance with international product standards
Cold start function. The UPS can be started from battery when AC utility is not available
USB and RJ-11/45 ports
One output receptacle IEC 320-C13 and one Schuko for models from 450 to 850 VA
Four output receptacles IEC 320-C13 and one Schuko for models from 1000 to 2000 VA
GIOTTO 450-2000 VA Line-interactive 1-phase technical data
Rating (VA)
450
650
850
1000
1500
2000
Nominal power (W)
270
380
500
600
900
1200
UPS dimensions WxDxH (mm)
100x292x140
148x315x198
UPS weight (kg)
4
5
5.5
9
10.5
11.8
Input
| | |
| --- | --- |
| Connection type | 1 IEC 320-C14 |
| Nominal voltage | 230 Vac |
| Voltage range | 160÷290 Vac |
| Frequency and range | 50/60 Hz, 45÷65 Hz |
Output
Connection type
1 IEC 320-C13 and 1 Schuko
4 IEC 320-C13 and 1 Schuko
Nominal voltage
230 Vac single phase
Frequency
50/60 Hz
Waveform
Simulated sine wave
Battery
Autonomy time (min)*
50% load
8
10
11
13
8
9
100% load
3
3
3
3
3
3
* Measurement conditions: optimised parameters, battery full charged, Power Factor (PF) 0.6
Connectivity and function extensions
Front panel
LCD, ON/OFF button
Communication
Included: USB.
Compatible platforms: Microsoft Windows, Linux, Mac
Environmental
| | |
| --- | --- |
| Operating temperature range | 0°C ÷ +40°C |
| Altitude (AMSL) | < 1000 m without power reduction, > 1000 with reduction of 0.5% per 100 m |
| Audible noise at 1m (dBA) | <50 |
| Relative humidity | 0-95% |
Standards and certi cations
| | |
| --- | --- |
| Marking | CE |
| Safety | IEC EN 62040-1 |
| EMC | IEC EN 62040-2 |
| Quality assurance, Environment, Health and Safety | ISO 9001:2008, ISO 14001:2004, BS OHSAS 18001:2007 |