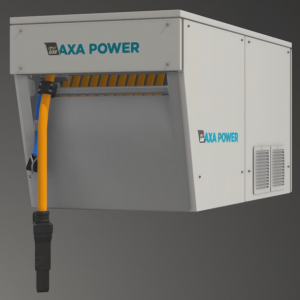 The Aesthetic Power Solution – for a neat, nice and pleasant apron.

The AXA 2400 Power Coil includes a 400 Hz, 90 kVA power supply and a cable coil in one single enclosure.
This leaves  the PBB and the apron nice and neat and pleasant to look at. Especially, where glass bridges is the preferred solution, the  aesthetic aspect is important.
The Power Coil works perfectly well with all sizes of bridges and all types of aircraft.

Innovative Solution based on Experience:

The AXA 2400 Power Coil offers a highly reliable and robust design including a front plate in stainless steel. The Power Coil has an improved cable guidance system that ensures easy and smooth cable handling.
As a standard, the Power Coil comes with 24 m of cable (useable length). However, the spacious housing has room for at least 28 m cable. The cable is rolled completely into the housing after use. The rolling automatically stops when the plug head is level with the lower edge of the Power Coil thus leaving the apron free.

Unsurpassed Advantages:
Less stress on the passenger boarding bridge
High reliability and easy maintenance
Additional Advantages:
Weight reduction compared to the traditional solution with a separate converter and a cable coil
Space saving
One complete, tested and adjusted system
Requires only mounting and mains input cable installation
No cable compensation / adjustment needed
Simplified mechanical installation