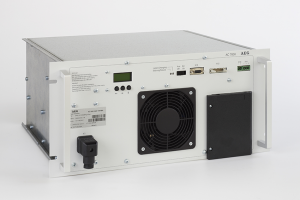 Switch Mode Rectifier Module
Output Rating from a single rectifier:
125 A (at 48 Vdc)
100 A (at 60 Vdc)
60 A (at 110 Vdc)
30 A (at 220 Vdc)
The pre-wired, switch-mode power supply unit operates according to an IU characteristic line to DIN 41772 / DIN 41773. The connections can be accessed from the front panel. The controls and display elements are installed on the front of the device. The extremely high level of efficiency means it has a compact structure as a 19" fully featured removable part with 5 height units.
KEY FEATURES
Compact 19" design
n+1 parallel redundant systems can be provided due to th compact design as a 19" plug-in module with 5 height units
Seismic approved version in accordance with KTA 3503
Low weight
Low inrush current
Resistant to sustained short circuit
Communication capable (CAN-BUS)
Operation with PSC 100 control unit:

Active current sharing
4 charge characteristics
Temperature compensated battery charging

Advanced microprocessor technology
Illuminated LCD-display
Applications
For all industrial applications. Provides secured DC power in combination with a parallel battery, for supply of all types of DC consumers including constant voltage and current sources such as Central Control Rooms in Nuclear and Non-Nuclear Power Plants as well as on-board power supplies for rail vehicles and ships.
Easy operation
The connections can easily accessed from the front panel. Programming is simple thanks to the illuminated LCD-display (2 x 16 characters) controls and indicators which are installed on the front panel.
Communication
The unit offers full functionality in stand-alone mode but can additionally be controlled and monitored via the digital CAN-BUS which is immune to interference. This can be achieved by using our PSC 100 control unit (option). Together with this controller complex DC systems can be built up on a low cost basis. In addition to the SMR power cabling only simple BUS wiring between the SMR's and the PSC 100 is required to complete the DC system.