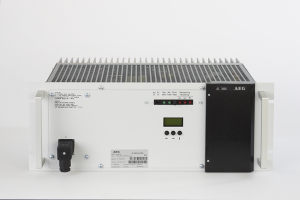 Switch Mode Rectifier Module

Output Rating from a single rectifier:
100 A (at 24 Vdc)
Modular switch-mode rectifier designed for industrial applications
Output Rating from a single rectifier: 100 A (at 24 Vdc)
KEY FEATURES
Compact 19" design
n+1 parallel redundant systems can be provided due to the compact design as a 19" plug-in module with 4 height units
Low weight
High power density
Sinusoidal input current
High efficiency
Low inrush current
Outstanding dynamic response
Low voltage ripple
Temperature compensated battery charging
Resistant to sustained short circuit
Communication capable (CAN-BUS)
Stand-alone mode even without CAN-BUS
Illuminated LCD-display
Applications
For all Industrial applications. Provides secured DC power in combination with a parallel battery, for supply of all types of DC consumers including constant voltage and current sources.

Communication
The unit offers full functionality in stand-alone mode but can
additionally be controlled and monitored via the digital CAN-BUS which is immune to interference. Its boasts a compact design as a 19" module with a height of 4 height units. Consequently, redundant systems can be set up even when there is very little space available, by connecting the units together in parallel using the n+1 principle.

Easy operation
The switch mode power supply is a pre-wired unit. The connections can be easily accessed from the front panel. Programming is simple thanks to the controls and indicators which are installed on the front panel.

Operating principle
The single phase alternating mains voltage is converted to a smoothed DC voltage taking account of sinusoidal current consumption. This allows it to achieve a power factor of > 0.99. From this, transistors generate an AC voltage of 100 kHz. With the assistance of transformers, potential separation and the voltage adjustment are on the secondary side. The high frequency AC voltage is then rectifi ed by means of rapid acting diodes. An output fi lter is installed to reduce the voltage ripple. The output voltage and current are controlled by pulse-width modulation of the transistor switch on the primary side.