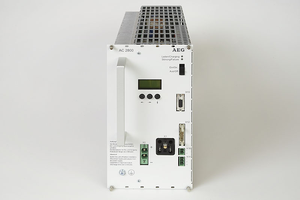 Switch Mode Rectifier Module

Output Rating from a single rectifier:
20 A (at 110 Vdc)
10 A (at 220 Vdc)
The unit offers full functionality in stand-alone mode; it can also be controlled and monitored via the digital CAN-BUS using the optional PSC 100 control unit. Together with this controller complex DC systems can be built up on a low cost basis. In addition to the SMR power cabling only simple BUS wiring between the SMR's and the PSC 100 is required to complete the DC system.
Versions:

110 V / 20 A E230 G 110 / 20
220 V / 10 A E230 G 110 / 20
KEY FEATURES
Compact 19" design
Optional n + 1 parallel redundant systems Seismic approved version (KTA 3503)
Low inrush current
Resistant to sustained short circuit
Communication capable (CAN-Bus)
Operation with PSC 100 control unit:
Active current sharing
4 charge characteristics
Temperature compensated battery charging
Advanced microprocessor technology
Illuminated LCD-display