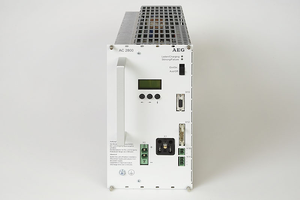 Switch Mode Rectifier Module

Output Rating from a single rectifier:
65 A (at 24 Vdc)
15 A (at 106 Vdc)
The switch-mode power supply unit operates according to an IU characteristic line to DIN 41772 / DIN 41773. It is a pre-wired unit supplied ready for installation. The connections are accessible from the front panel. The controls and display elements are installed at the front of the unit. Due to its high efficiency, it is designed as a compact 19" plug-in module of 4 height units.

Versions:
24 V / 65 A E230 G24 / 65
106 V / 15 A E230 G106 / 15
KEY FEATURES
Compact design and low weight
Low mounting depth
High power density
Low inrush current
Sinusoidal input current
High efficiency
Low voltage ripple
Resistant to sustained short circuit
Excellent dynamic response