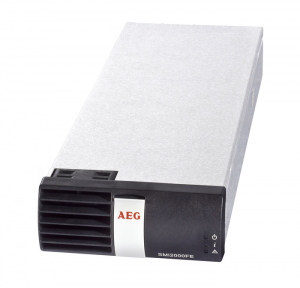 Rectifier Module
2000W, 48VDC
ultra-high efficient
The SMi2000FE, using the new Full Efficiency platform, is a ultra-high efficiency 48 VDC rectifier, fully plug & play with backwards compatibility with installed systems using rectifiers from the previous generation (SMi2000HD). With a typical flat efficiency feature higher than 96 % achieved within 30 – 70 % of load and higher than 95.5 % achieved within 25 – 90 % of load, OPEX is reduced. The ability to operate at high temperature, without de-rating, reduces or eliminates the need for expensive air conditioning with its heavy CO2 burden and high OPEX. Finally, our all-digital DSP architecture achieves very high levels of circuit integration attaining the very best in reliability.
KEY FEATURES
Plug & Play, fully compatible with previous installed systems
High efficiency: 96 % typical over large load bandwidth / 96.5 % peak
Standby power consumption: <2 W
Wide temperature range: -40 °C to 75 °C
Robust; wide input range: 85 – 300 VAC
Embedded neutral opening protection
Designed for high reliability
Engineered for low environmental impact with massive reduction in CO2 emissions

Description
The SMi2000FE offers the ability to achieve immediate savings on energy consumption by enhancing the efficiency of deployed MPi-Series & MPTi systems, replacing the SMi2000HD with SMi2000FE. This allows the protection of your original capital investment while reducing operating expense by means of higher efficiency. SMi2000FE is optimized for a wide range of system sizes. Digital communication over CAN bus with our controller ACMi1000HD (as well as ACMi1000e) simplifies system design and enhances flexibility.

Applications
Data centers and telecommunications networks, for wireless, fiber and fixed line communication. With world class efficiency, excellent reliability, and its sleep mode for power management during periods of low traffic, the SMi2000FE really delivers low OPEX.
Increasing network speed demands flexible and expandable DC power solutions. SMi2000FE is the key building block for your future needs.