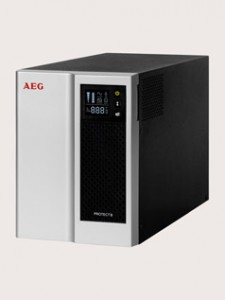 Tower-UPS
line-interactive (VI)
| | |
| --- | --- |
| 500 VA | 1000 VA |
| 750 VA | 1500 VA |
special version for NAS applications available


The new Protect B series has been specially refined for applications in the SME and SoHo segment and is perfect for protecting NAS systems, ATMs, 3D printers, workstations, PCs, and other IT applications. In particular, the standard HID power device interface enables software-independent communication and allows the UPS to be integrated directly into a network-attached storage (NAS) management system. The Protect NAS model also has a much longer autonomy time in the lower partial load range when operated fanless. This makes the Protect NAS ideal for office and home environments.
KEY FEATURES
Modern VI (line interactive) protection technology with sinusoidal output voltage
High-contrast LCD display with status information and measured values, including the remaining runtime in minutes
Surge protection (RJ11/RJ45) for telephone, fax, router, and network
User-friendly hot-swappable battery design
"Green mode" can be activated to improve battery availability
Intelligent monitoring system with USB interface as HID power device for software-independent UPS management
24 months standard warranty
Additional warranty extensions up to 60 months available
DESCRIPTION

The VI (line interactive) technology of the Protect B provides reliable protection for your sensitive company data in the event of power failure, dangerous power surges, and HF interference. More substantial voltage fluctuations are systematically offset via the voltage pre-regulator (AVR) of the Protect B.
More extensive monitoring and management tasks in the IT environment can still be carried out by the AEG "CompuWatch" shutdown software provided.
A redesigned, high-contrast LCD display provides information on all key operating conditions and, in particular, on the remaining autonomy time with the current load and power failure.
The systematically refined hardware design with battery-saving charging electronics guarantees many years of use. The UPS front panel makes it easy to replace the batteries.
Autonomy Times