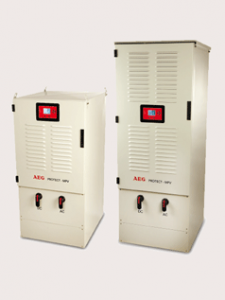 Modular Solar and Fuel Cell  Inverter
up to 150 kW
up to 10 modules
AEG Power Solutions introduces the new Modular Solar Inverter System with leading-edge power electronics in a transformer-less, modular design. Inverter modules are turned on as needed to match the solar power available and therefore run at optimal efficiency. This module optimization, coupled with advanced inverter design and no transformer losses, yields efficiencies of up to 97%.

Three-phase, transformer-less, central inverter in a modular design
MPV.System075 supports up to 5 and MPV.System150 up to 10 inverter modules
Integrated Web Server with Remote Monitor Application and on board data storage
DESCRIPTION
ADVANCED CONTROL & COMMUNICATIONS
The Maximum Power Point Tracking is designed to meet the latest requirements for fast response to dynamic changes in clear and cloudy conditions, plus provide reliable active/sleep detection for day and night shift. Monitoring and power plant integration is based on CAN BUS communication. Web server and datalogging are integrated into the inverter. Advanced operator controls are supported.

ROBUST & RELIABLE
The MPV.System is designed for a 20-year life indoors or outdoors. If one inverter module should fail, the rest of the modules will continue to operate. The impact is a loss of a portion of the output power typically only at the peak output of the day. Inverter modules, surge protectors, filters and other components are easily replaced in the field.

SMALL, LIGHTWEIGHT & FLEXIBLE
A fully loaded MPV.System takes up half the space and weighs less than half of its competitors. For installation, simply place the cabinet assembly and add the number of inverter modules that you need. If the system capacity grows or the customer wants to expand, just insert additional inverter modules when you need them.*

* Check system wiring per NEC prior to upgrading number of modules
POWER IS OUR BUSINESS
With more than 60 years of experience in power supply systems and solutions for power plants, AEG Power Solutions offers a comprehensive range of services aimed at securing maximum yields for your PV power installation. These services include contractual solutions with service guarantees and high inverter availability.